After 2 years of having to hold autumn litter picks it was good to return to the usual Spring event last Saturday 2nd April. Despite a forecast for rain the afternoon remained chilly but dry. Over 30 people volunteered including several members of the Lions Club to help with the event and bearing in mind that the previous pick was only 6 months ago there was a lot of litter collected . As usual much of it was plastic and drink cans a lot of which had been discarded by those using waterside seating. Thanks to volunteers who managed to carry back 2 car tyres and a whole wheel and tyre. Over 30 rubber and tennis balls were found presumably lost by dog owners.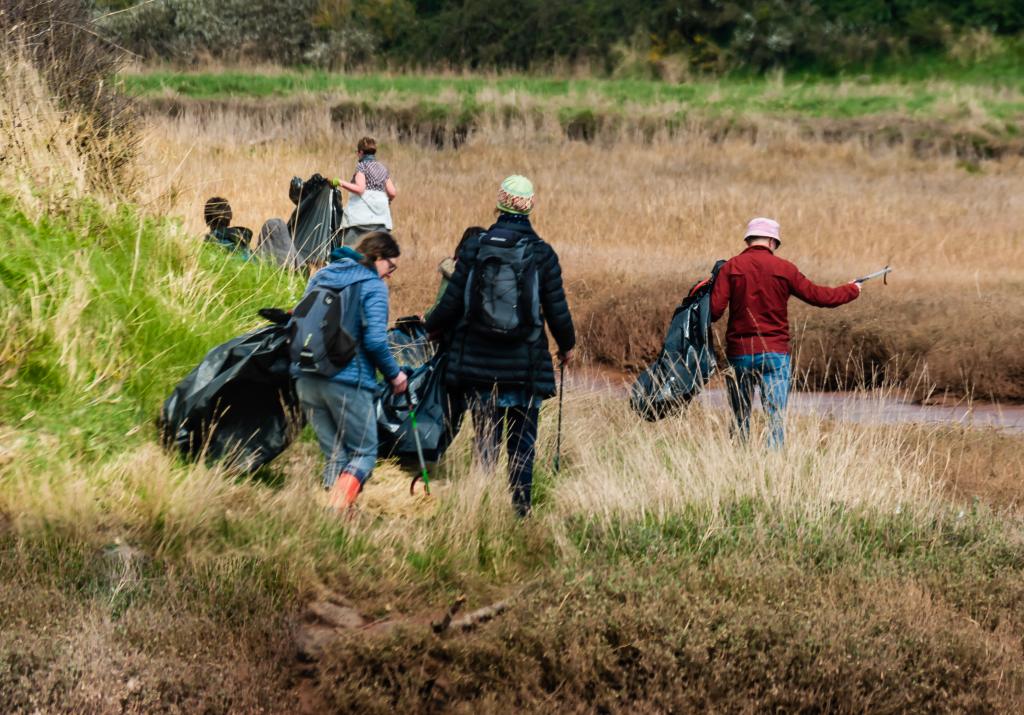 Litter Pickers on the Otter Estuary
There was no evidence of litter from the work on the estuary. Regular litter-picks on the beach must have reduced the amount of rubbish coming in with the tides but there was still a large tangle of fishing rope and net found on the east bank below White Bridge. In all some 8 large bin bags of rubbish were collected plus a lone Christmas tree.
A number of items were entered into the unusual finds competition including a childs pink inflatable, shuttlecock, various items of footwear including a wellington boot containing a rather annoyed crab (safely returned to the water), a case containing an anglers fishing rod, a wooden boat inscribed with the owners contact details and parts of an animal skeleton. Otterton Parish Councillor Melanie Martin selected the final 2 items and £15 gift vouchers were sent to their finders Brian Hodges of Exeter and Richard Morgan of Budleigh.
Geoff Porter & Melanie Martin (with litter in background)
As usual the event was organised alongside Clinton Devon Estates the land owners. Thanks to Kate Ponting and Sam Bridgewater. Equipment for the event is provided free of charge by Keep Britain Tidy. Thanks also to EDDC for providing free parking vouchers and the Streetscene for providing bags and collecting the rubbish.
It is hoped that another litter-pick will be held next Spring so come along if you can. Once LORP has been completed how to collect litter from the enlarged estuary will present quite a challenge. Clinton Devon Estates will be considering how best to manage this.
Geoff Porter
Event Organiser