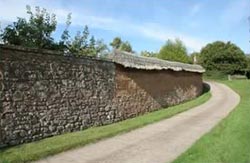 The village is said to be named as the "tun", or farm, of an Old English chieftain "Ceola". The word "Raleigh" was added when it came into the ownership of the Raleigh family in the 13th century.
Like many Devon villages, Colaton Raleigh has a large number of thatched cottages, many with cob walls. A more unusual feature is a high free-standing cob wall with a thatch. This encloses Place Court, parts of which were built in the 13th century. It is said that Sir Walter Raleigh was baptised in the chapel above the porch. The cob wall opposite, with tiles atop, was the side of a cattle shed. Masonry bees make their home in the wall in summer.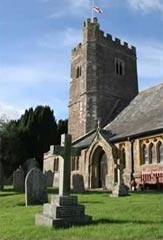 The parish church of St John the Baptist was certainly in existence before 1226. It was substantially rebuilt in 1875 retaining some features of the 13th century interior and the 15th century tower. Workmen restoring the bells in the church tower a few years ago, objected to a hive of bees in the belfry, and proposed to remove them. They were told that the bees had been there for more than a century, and that the parishioners would object to their removal. The church has 6 bells in working order and frequently rung. The green triangle nearby used to accommodate the pillory.
Two other places of worship, both to the west of the B3178, are both now private dwellings, but their ecclesiastical origins are still clear to see from outside. One, in a side road opposite Popham`s Farm, was built by a wealthy Methodist after the lord of the manor threatened to evict a tenant who had allowed Methodist services in his cottage. The other is out at Hawkerland Common.
Plymouth Brethren used to hold services in a building next to Kitts Hayes now replaced by a bungalow. There was a further chapel at Dotton.
At the end of Church Road, the main village street, is a working farm. From here a delightful path along the river leads south to Otterton. It passes an attractive bridge made of laminated wood. This replaces an earlier bridge which fell into disrepair, and became known as "Rickety Bridge". The name is still applied by the locals to the new bridge.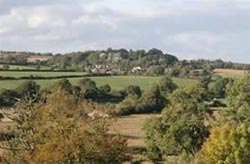 Facilities available in the village.
The Otter Inn on the main road through the village, offers a range of real ales, wines and a wide variety of food, from carvery to full menus, and good bar snacks. Woods village shop on the opposite side of the road stocks a wide range of hot & cold snacks, sandwiches, fresh coffee & cream teas that can be consumed in the seated area of the tea garden.