Otterton is an attractive village beside the River Otter. It has many old thatched cottages and farmhouses, and a village green with several horse chestnut trees on it.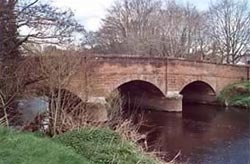 It is believed to be Saxon in origin. The Manor of Otterton belonged for centuries to the Abbey of Mont St Michel in France. At the time of the wars with France, Henry V confiscated it, and granted it to Syon Abbey. At the Dissolution (1540), it was purchased by Richard Duke from Henry VIII, and was owned by the Duke family until 1786.
The last male Duke was going to build a house in Otterton Park, east of Clamour Bridge. The entrance pillars are still visible in Park Lane. But sadly he fell off his horse and died before the house was built. The Manor was then purchased by the Rolle family.
Although there had probably been a church at Otterton since before the Norman conquest, the first official record of a Priory dates from 1161. Later the monks added a second nave to their church for the use of the village people. The monks' church was pulled down after the Dissolution, which  may explain why the church now has its tower at the eastern end of the present nave.
 
The Alms houses built beside the Church are believed to have been part of the former Priory.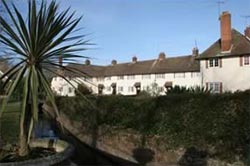 Until Tudor times, the sea came up as far as Otterton, allowing small ships access to the village. The harbour was known as Ottery Haven. A pebble bar then formed at the mouth of the Otter partially blocking the entrance to the estuary much of which has since become salt marsh. During the Napoleonic Wars some of this land was reclaimed, using French prisoners of war to construct embankments confining the river. There is now a pleasant walk of about three miles from Lime Kiln car park in Budleigh Salterton to Otterton, part of which is on top of the embankment.
At the entrance to the village is Otterton Mill, a working water mill open to the public. There has been a mill on this site since Domesday.
The Lower Otter Riverside Walk leaflet describes the riverside walk from Budleigh Salterton to Newton Poppleford.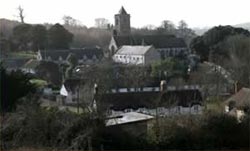 Facilities available in the village:
Otterton Mill contains a restaurant with both indoor and outdoor seating, a working bakery providing fresh bread, cakes and scones, and a craft shop where OVA books may be purchased. There is a generous car parking area.
The Kings Arms serves good real ales and wines and has a wide range of meals including children's specials. It is a child and dog friendly pub with outdoor seating and a children's play area.  It also offers accommodation.
A ladies' hairdresser opposite the Kings Arms.
A thriving Community Shop, selling groceries, attached to the side of the Village Hall.
There is also an established farm shop at South Farm.