Ovapedia search :
Title:
The Historic Buildings of East Budleigh. Part 2 – Lower Budleigh and Environs
Description:
In mediaeval times East Budleigh was held under two ownerships. Budleigh Polsloe, or Higher Budleigh, was held by Polsloe Priory whilst Lower Budleigh was held by Mont St Michel until confiscated and given to Syon Convent, when it became known as Budleigh Syon. The Duke family acquired both parts 1537 and held them until the Rolle family bought them in 1787. The boundary between the two is thought to run along the brook, though the brook may have changed its course since then. For convenience this description of the historic buildings of East Budleigh will be roughly divided in a similar way into two parts. 
In this second part the buildings of East Budleigh are described by continuing an imaginary walk through the village commencing at Drake's School and moving along Middle Street through what is now known as Lower Budleigh to the cross roads by The Rolle Arms. Here a number of buildings on the west side of Budleigh Hill, the road towards Budleigh Salterton, are described before a group on the east side of the crossroads at the junction with Frogmore Road. Next come some buildings on Oak Hill, the road towards Bicton, and finally short descriptions are given of Pullhayes Farm and the Salem Chapel on the outskirts of the village. Buildings or groups of buildings are given an alphabetical key in the text and on the map below. There are nearly 60 listed buildings and other features in and around the village. There are a few buildings, mostly of the 19th century, that are not included.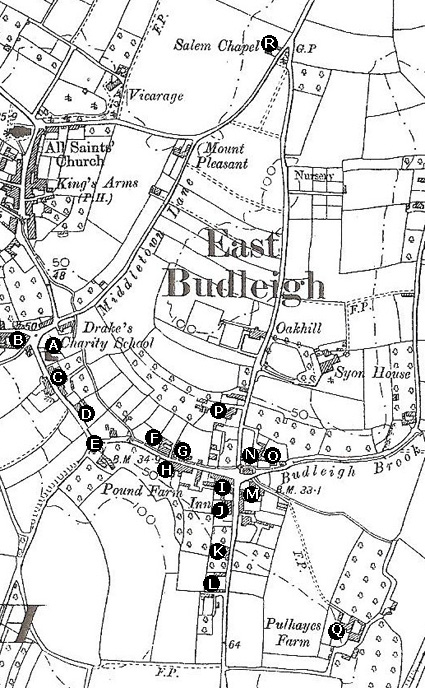 Map of Lower Budleigh and environs with key to buildings described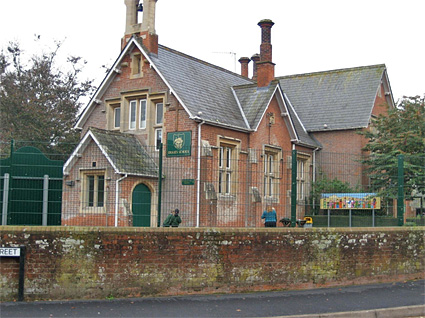 Drakes School
A Drakes School 
East Budleigh or Drakes School was built in 1860, funded by the Drakes Charity founded in 1628. It was two separate schools - boys and girls- which were amalgamated in 1911. Mr.Clotworthy was the first head teacher. By 1881 it was discovered he had been interfering with the attendance registers to his own advantage, being paid by the numbers attending, and was dismissed.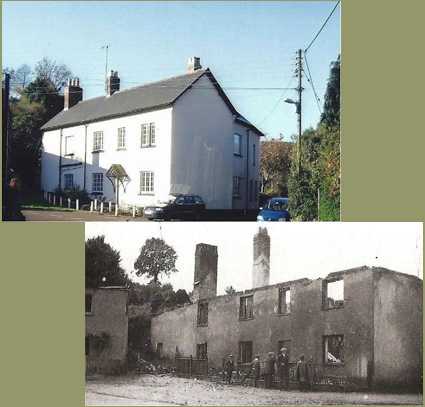 Wynards Farm
B Wynards Farm 
This farm has been known as Wynards Farm since the mid 19th. century possibly because some of its fields were part of Wynards House land. It was held by a branch of the Carter family throughout most of the 1800's In 1914 John Carter experienced a devastating fire to his farmhouse. This might be a unique example of a farm still existing successfully in the main street of a village locally.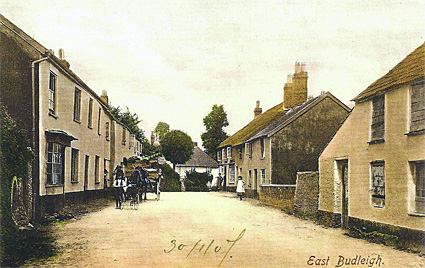 Middle Street 1905
C   Middle Street 
The cottages on left caught fire in 1961 and were demolished. The bay window was a lace shop, with water tap next to it. The cottage in the right foreground was Mrs. Vinicombe's sweet shop. The group of cottages in the right distance were built in 1771. (See modern picture below.)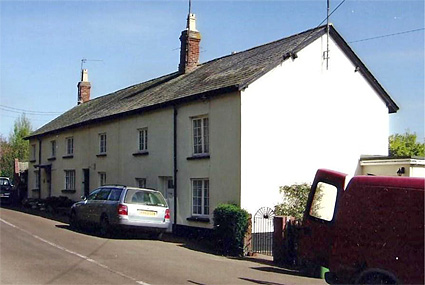 Modern photograph of the three cottages Middle Street 
These cottages were divided into three in 1778. By 1830 Samuel Williams, Tin Plate Worker and brother Robert, a Joiner, were living and working there. They were joined by John Kelly, Lace Hatter. In 1844 Robert Williams is living there as a chandler/shopkeeper and in 1874 William Heyman, grocer and lace manufacturer is there. William Hanniford, cabinet maker, had married a daughter of Robert Williams , and in 1880 took on lease of the 3 cottages and moved his business into East Budleigh. By 1898 he was in arrears with rent.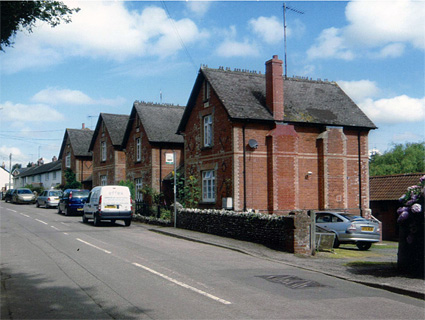 Mark Rolle 1-4 Brick Cottages 
D Nos.1 to 4 Brick Cottages, Middle Street 
Two pairs of distinctive red brick cottages built by the Rolle Estate in 1874 and 1875 as part of the enormous building project for the benefit of farms and people living on the Estate, all of which were built during the period 1865 and 1905. There are other groups of cottages in East Budleigh each with the logo MR and date. The initials stand for Mark Rolle who had this building project carried out. 
E The Pound 
Although not a building as such the village pound, where stray animals were impounded, is an important historic landmark in the village. It is now a recreational area.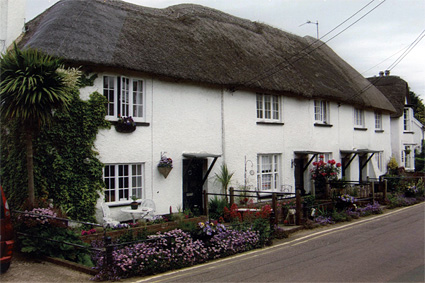 Bridge Cottages 
F   Lower Budleigh (north side) 
The four cottages in this terrace were originally one room plan and are said to be a rare survival in Devon. Many extensions have been built at the rear. The cottage on the left is an extension built in the late 19th. century. In the cottage at the right end of the block, lived John Small who was a carpenter and wheelwright who by the 1860's was employing 3 men and two apprentices building carriages/coaches eg. Gigs, dogcarts, hansom cabs etc. He is the only coachbuilder named in Directories for S.E.Devon and must have had a thriving business serving the middle classes and gentry over a wide area.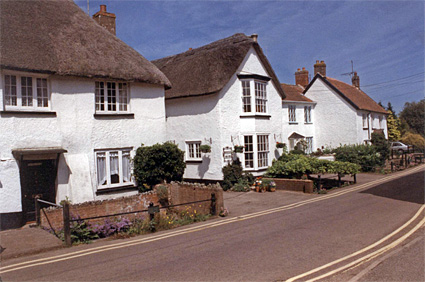 Bridge Cottage, Bridge Mews, Diamond Cottage and Rose Cottage 
"Bridge Mews" was originally John Smalls barn/workshop. By the early 1900's it had been converted to a house and by 1928 was the village Post Office and shop known as Corberway Stores, Elsie Dyer postmistress. When she moved to a new premises in the 1950's, Bridge Mews was converted to a private house.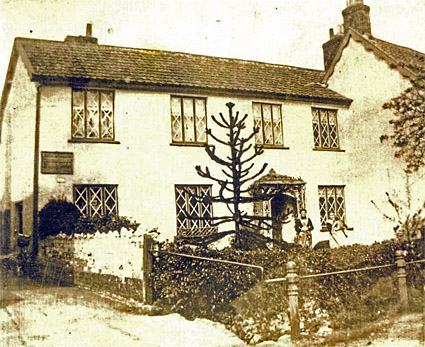 Diamond Cottage 1914 
G Diamond Cottage 
A cob and tiled houses built mid19th.century by John Hayman. In 1930's Thomas Spurway, beer retailer lived in Diamond Cott. Which has been renamed The Cider House.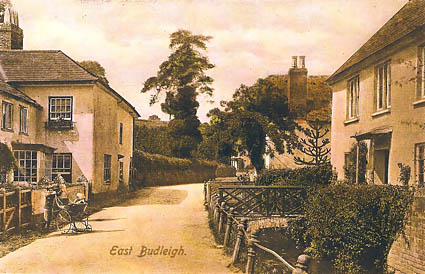 South side, Lower Budleigh looking West 1910 
H Lower Budleigh (south side) 
The road narrows here and in the 19th. century artisans lived and worked here on either side of road. Besides Mr. Small, John Patch, wheelwright, Thomas Parsons, cooper and a shoemaker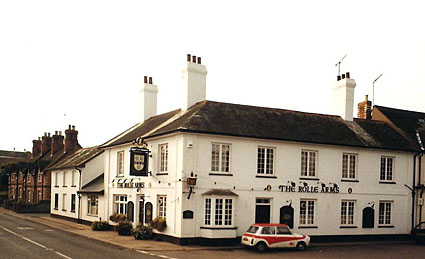 Rolle Arms 
I Rolle Arms 
In 1800 a barn and blacksmiths shop stood here owned by William Sanders. By 1841 the smiths shop is being used as a malting. In 1845 the premises is an inn called The Maltscoop, which was probably in the barn. The present building probably dates from 1854 when the inn is known as the Rolle Arms, still run by William Sanders. He died in 1877. Petrol Pumps stood on Budleigh Hill frontage after World War 11.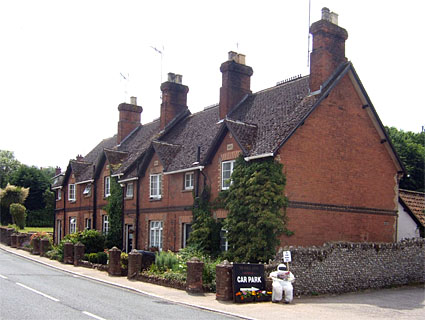 Mark Rolle Buildings Budleigh Hill 
J Mark Rolle Buildings Budleigh Hill 
Dated 1877 and of different appearance to those in Middle Street.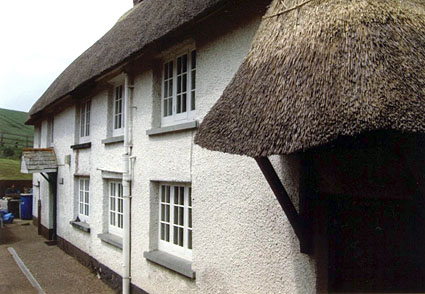 Woodbine & Priddle cottages 
K Woodbine & Priddle cottages 
These cottages were built in the mid 1600's. They were built as two cottages with the two main rooms at either end of the building and two store rooms in the centre. William & Thomas Priddle. 1850 Veterinary Surgeons.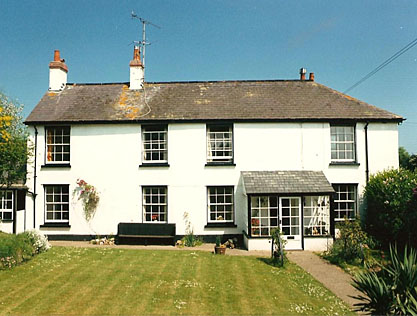 The Old Manse
L The Old Manse 
Probably built in 1830's on site of an earlier house. Probably part of Pulhayes farm as it was owned by the Cockerams. In 1842 owned by Robert Cockram. By 1889, it was called Eden Villa, owned by Thomas Havill, a member of Salem Chapel and the following year he sold it to the Chapel to provide a residence for their Minister. The Chapel eventually sold The Manse as it was then called in 1956 as a private residence. 
The driveway to the Old Manse was one time the site of the Prince of Wales inn. The Rolle Estates Land Agent, Robert Lipscombe believed the inn did great deal of harm to the village and is writing" I very often volunteer on a Sunday evening to escort the Budleigh Salterton ladies who have been to Otterton Church, past the Prince of Wales because the roughness that is so often met with." He had it closed in 1889.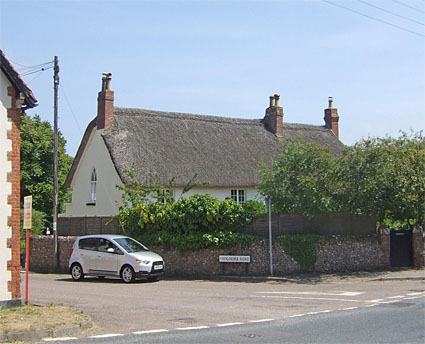 Christophers
 M Christophers 
First mentioned as a residence in a Directory of 1870. William Christopher, surgeon & medical officer to East Budleigh District, was living there. It was named Laburnum Cottage, which was probably changed after WW11. Until the 1830's this was the site of the Tannery and this building was probably a workshop. It bears the appearance of a typical 18th. Century building that was later converted into a cottage. 
The Tannery had been in existence since the l6th.century and had flourished for 300 years supplying tanned hides for boots, shoes, saddlery etc. to the whole area. By the early 1830's Henry Leatt Carpenter was having difficulty getting supplies of bark for tanning his hides and the tannery had closed by 1833.
Myrtle Cottage 
N Myrtle Cottage 
Although not listed, is possibly late l8th.century. In 1842 was a smallholding with 7 acres of land, held from the Rolle Estates by William Tedbury a member of the family that held Town Mills and Thornmill. By 1851 Alfred Williams a linen draper has his business.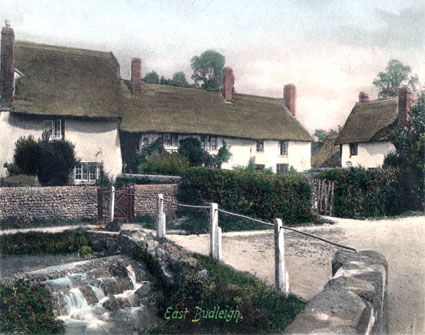 Frogmore Road 1910 
O Frogmore Road.
Myrtle Cottage to the left, the remaining cottages have since been demolished. On the right is Havills Blacksmith shop. He was a tenant of Daniel Tedbury, the miller at Thornmill.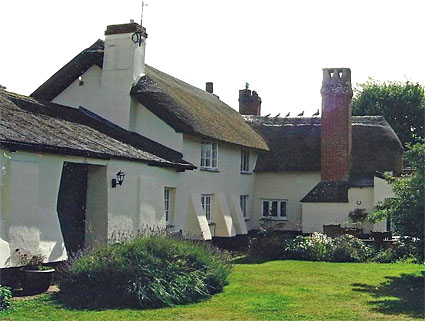 Davey's Cottage 
P Davey's Cottage 
Today Davey's Cottage is off Oak Hill and stands behind the house called "Clematis". It was a farmhouse, named Ponsford Farm and listed of 15th.century construction ie. cob and thatched with a lateral stack, originally with a cross-passage. It faces south and if l5th.century would have overlooked the haven.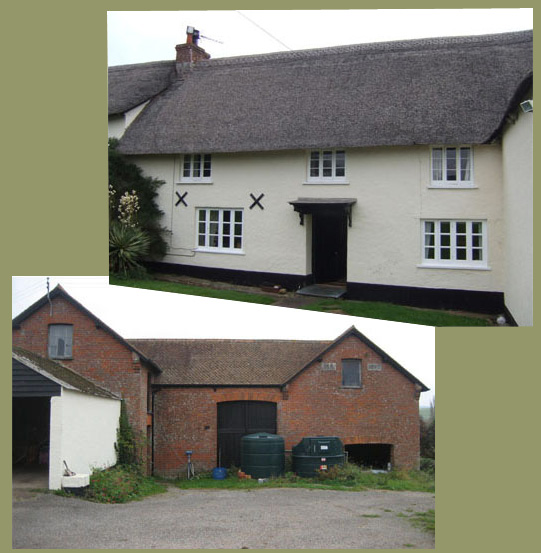 Pulhayes Farm and barn inscribed "MR 1870" 
Q Pulhayes Farm 
Pulhayes may date from the 15th.century and had renovations and additions in l644. There is date - l644 and initials TR, Thomas Randell - on an exposed truss in a bedroom. He held a 1000 year lease on Pulhayes and the Tannery. There have been further alterations over the centuries, but the building retains many l7th.century features. It is a through passage, cob and thatch house and has a lateral stack on the back. There are extensive farm buildings, some being MR dated 1870. It has been farmed by the Pyne family since 1933.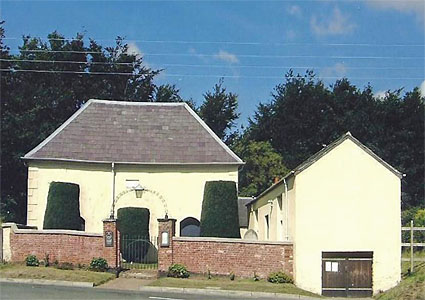 Salem Chapel
R Salem Chapel 
The Chapel was built in 1719 on land given by John Pounce, shipmaster, owner of Wynards in the High Street, on an annual rent of 12 pence. Considerable alterations were made to the building in 1826, including the central timber post, which was replaced by a cast iron post, and side galleries were built. The schoolroom was built in 1851. 1998 the Chapel was bought by the Historic Chapels Trust and with a help of a Grant from the Heritage Lottery Fund, extensive repairs were made from 2004, including the replacement of the central post.
17th. to 19th.century smuggling of goods was very lucrative. Believed the Chapel roof structure was used to store contraband. Revd. Samuel Leat, minister at Salem, was believed to benefit from this activity. 
Link to Historic Buildings East Budleigh Part 1 - Higher Budleigh
Compiled and researched by Gerald Millington © 2011 
Sources and references: 
1.The Manors of Budleigh and Otterton: Late Saxon to Tudor times, Roger Lendon, OVApedia 2011 
2.Mark Rolle - His Architectural Legacy in the Lower Otter Valley, Otter Valley Association © 2002, ISBN:0-9507534-5-9. 
3.Three thousand year leases in East Budleigh Manor, Gerald Millington, OVApedia 2011 
4.Devon Record Office  Ref. 96/M 
5.Clinton Devon Estates Archives Documents, Rentals Books, Letter Books. 
6.Guide to Lower Otter Valley Chap.5 East Budleigh by Vivian Brennan 1983 
7.Census, Directories, Land Tax Returns, Exeter Flying Post. 
148  EB-G-00015 any