Ovapedia search :
Title:
The Historic Buildings of East Budleigh. Part 1 – Higher Budleigh
Century:
C14
C15
C16
C17
C18
C19
C20
Description:
In mediaeval times East Budleigh was held under two ownerships.  Budleigh Polsloe, or Higher Budleigh, was held by Polsloe Priory whilst Lower Budleigh was held by Mont St Michel until confiscated and given to the Syon Convent, when it became known as Budleigh Syon.  The Duke family acquired both parts in 1537 and held them until the Rolle family bought them in 1787.  The boundary between the two is thought to run along the brook, though the brook may have changed its course since then. More details of Manorial ownership can be found in reference (1).  For convenience this description of the historic buildings of East Budleigh will be roughly divided in a similar way into two parts. 
In this first part the buildings of Higher Budleigh are described in the order of an imaginary walk through the village commencing at Hayes Barton and continuing along Hayes Lane to the High Street.  They are given an alphabetical key in the text and on the map below.  There are nearly sixty listed buildings and other features in and around the village. Many are described, twenty-four of which are in the High Street.  There are a few buildings, mostly of the 19th century, that are not included.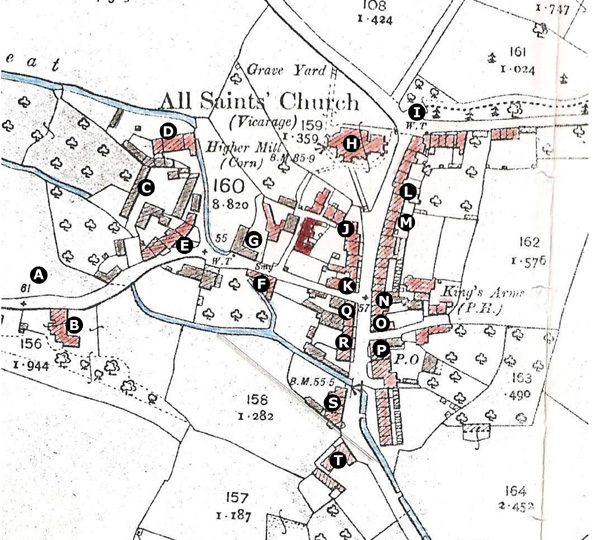 Map of Higher Budleigh with key to buildings described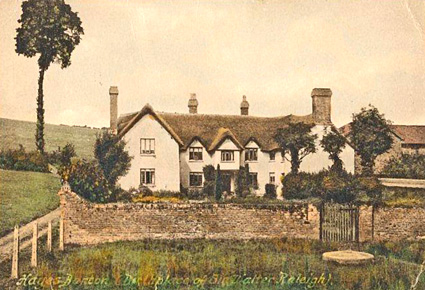 Hayes Barton photo c 1910 
A  Hayes Barton  
The Sub-Manor of Hayes, part of East Budleigh Manor and held by the Crown, was granted by Henry II in the 1180's to the de Poer family.  In 1484 it passed, by marriage, to the Duke family of Sherborne, who had become merchants in Exeter.  They had the present house, today known as Hayes Barton, built in about 1485.  After buying, at a bargain price, the Manors of Otterton, Budleigh Syon and Polsloe in 1540, they built a Manor House at Otterton and leased Hayes Barton to Walter Raleigh in the 1550's.  Sir Walter Raleigh was born there in 1552 and lived there for fifteen years.  The House has had many additions over the centuries as has the farm with a major rebuild by Mark Rolle (see reference 2 for an explanation of Mark Rolle buildings) in 19th century.  Hayes Barton is still in the hands of the "Lord of the Manor" i.e. Clinton Devon Estates and has been the home of the Downs family since 1939. [Herbert Anniss farmed Hayes Barton prior to 1939 – see footnote 1].
John Lawrence took over Hayes Barton in the 1870's from Thomas O. Suxpitch Carter, and farmed the 194 acres for over thirty years.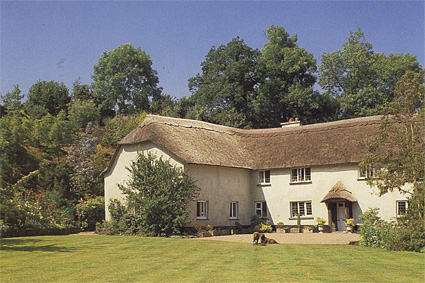 Vicar's Mead photo c 1990
B  Vicar's Mead 
The earliest documentary reference is from 1513.  The building is of a much altered three room through-passage plan.  The Vicars of East Budleigh lived here and many of them ran a school for boys of the Duke Estate's wealthy tenants.  It is possible Sir Walter Raleigh could have attended as a boy.  The Parish Room was built, probably by Revd. Matthew Mundy in the 1750's.  It has narrow passages behind it wide enough to hide casks of brandy and other contraband stored by smugglers.  Both Revd. Mundy and his successor, Revd. Ambrose Stapleton from 1741 to 1852, were actively benefitting from smuggling.  It ceased being the vicarage when a new one was built in Vicarage Road in 1859. [In the censuses of 1901 and 1911 Grace Anniss ran a lodging house here – see footnote 1].
C  Hills Farm Complex (site of Town Mill) 
The Mark Rolle buildings of Hills Farm were built in 1890 to the south of the Town Mills. (Hills Farm is shown in panoramic picture above section H). Below the barns, now converted to housing, are three cottages, probably built in the 18th century.  Opposite the cottages was the blacksmith.
D  Town Mills 
The Mill was fed by a leat taken off the Budleigh Brook about 200 yards upstream from the Mill, then dropped through the mill wheel passing in front of the three cottages and rejoined the Brook near the Blacksmiths.
During the 19th century Joseph Tedbury was the miller.  Other members of his family were also millers, at Thornmill and Otterton Mill.  Business at all the three mills declined during the 1880's.  Town Mills was closed in 1913 and later pulled down.  Thornmill survived a little longer and Otterton Mill until 1959, to reopen in 1977.
There was also a Saw Mill about 1/2 mile upstream this was fed from a reservoir near Washmoor Farm.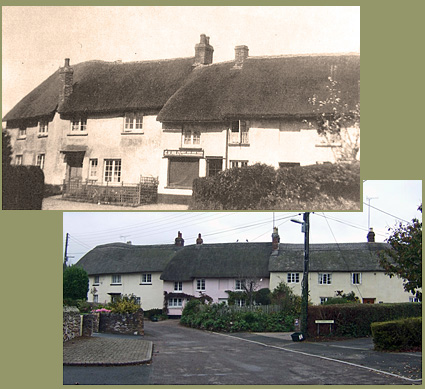 Three Cottages photos c. 1930 and 2010 
E  Three Cottages 
Brook and Peartree Cottages and Hills Farmhouse, the middle cottage was known as The Boot Shop, C.H. Hill & Co. 
F  Annis' Blacksmith Shop 
William Annis took the lease on a newly built cottage about 1800.  He and his family built up a successful blacksmith's business which having extended through being Corn Dealers, Coal & Coke Merchants, Wood, Stone & Gravel Suppliers, Haulage Contractors, Farriers, and farming, still exists in the vicinity today.  [Three generations of Annisses were smiths there from the early 1800s until 1942 – see footnote 1].  
G The Tithe Barn 
The Tithe Barn was built in 1536.  In the late 19th and 20th centuries it was part of Churchstile Farm but was pulled down in the 1970's and replaced by the car park and toilets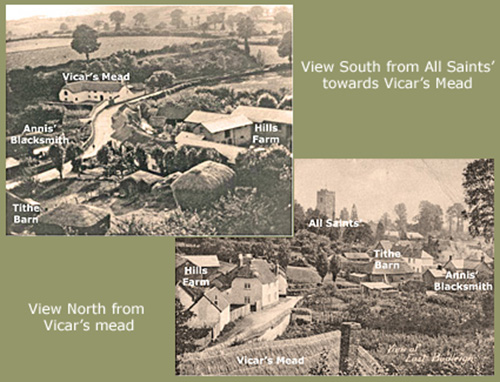 Panoramic views to and from All Saints' and Vicar's mead c. 1908 
H  Church, All Saints 
There was probably a Church on the site in Saxon Times.  After 1420 Bishop Lacy of Exeter began rebuilding the existing Church.  Outstanding features are the carved pew ends (see OVApedia article reference 3), the bosses in the wagon roof; the mediaeval Chancel Screen, the rood loft stairs which were uncovered in 1891 and Joan Raleigh's tomb on the floor close to the Raleigh Pew end.  All these features date from the 15th & 16th centuries, the prosperous period of the Ottermouth Port (see reference 4). 
I  Sir Walter Raleigh Statue 
The Statue at the top of the High Street was erected in 2008 on the site of an inn called The London Inn, named in 1842 Tithe Map.  It was also known as the Five Bells, demolished in 1856, and its lands incorporated into the new Vicarage. 
J  Church Cottage and Churchstile 
The buildings on the west side of the High Street down to Hayes Lane commence with Church Cottage followed by Churchstile.  The latter was built in the 16th or possibly 15th century.  It was one of a number of buildings in East Budleigh and Otterton built by merchants and ship-owners trading out of Ottermouth Port in the late 1400's.  Typical three room through-passage house with central fireplace and lateral stack on frontage added later.  There were many extensions and additions which include Church Cottage built in late 17th century and also Budleigh House in the early 19th century.  Farm buildings were built at the rear extending into present day car park.  Lord Rolle's Agent, John Daw, lived here in the early 19th century.  The Anniss' took over Churchstile farm and house in the early 20th century.  Sold by the Estate 1971. [Herbert Anniss lived there in the 1901 and 1911 censuses, his daughter, May, then lived there with her husband Garwin Till until the 1960s – see footnote 1].
K  Budleigh House 
Budleigh House was built onto Churchstile before 1824 by John Hill.  In that same year John Daw, Rolle Estates Agent, took a lease on both houses and it has been a private residence ever since. 
L  Angle Cottage No. 40 with No. 38 
Moving across the High Street, these two cottages, Nos. 40 & 38, were a three room through-passage farmhouse built in the 16th century and divided into two in 1700's.  No. 38 may have been a beerhouse run by Abraham Brown, 1762-1779.  Both cottages have been shops (tailors) in the 19th century.  No. 36 was built in 17th century and was James Williams shoemaker's shop in the 19th century.  
M  Old Bakery No. 32 
An old cottage was demolished and the Bakery built in 1883 by Mrs. Sophia Cook.  It was owned in 20th century by Wallace Pidgeon and was a successful bakery until its closure in the 1970's. 
N  Sir Walter Raleigh Public House, No. 22 
The building is an early 16th century cob and thatch farmhouse.  It has blackened rafters indicating it once had an open hearth.  It was probably opened as an inn in the 1830's under the new Beerhouse Acts and named King William IV, shortened to The King's Arms.  In 1841, Thomas Williams was licensee.  He was a builder of barrel organs, carrying on his trade in the inn premises.  
The name was changed again in 1967 to the Sir Walter Raleigh, when the cottage next door was incorporated as a restaurant.  John Brock was licensee in 19th century and ran a posting house with a fly for hire.  By 1897 a hansom cab could also be hired.  
O  Nos. 18 and 20  
These cottages are listed as "late 19th century".  If the listing inspector had been able to see inside he would probably have had second thoughts! They certainly date from 1706 and are much earlier as they were held on a 3,000 year lease (see related OVApedia article reference 5) and probably date from the 1600's.  Known then as Maunders, it had been a slaughter house, malthouse and had stables at rear.  From the 1760's it was a Chandlers and Soap Boilers shop.  Bernhardt Mellor had a shop in No. 20 in 1930. 
P  Nos. 14 & 16 Village Store 
Nos. 14 & 16 were probably built in the 1600's as a farmhouse.  They were known to have been held by the Swetland Family who are first named in East Budleigh in 1613.  It was divided into two premises by the Williams family who took a lease in 1828 and the store probably dates from that time.  It was a grocers, linen drapers, lace manufacturers, beer retailer trading as the "No Wonder Inn" and the village Post Office. In 1903 Mrs. Henrietta Anniss was shopkeeper and postmistress. Her husband William had died in 1900. She advertised for an assistant and employed Florence Braund in 1903. Florence married George Anniss, the Blacksmith - William's youngest brother, in 1906. By 1911 they were living with their family at the shop and Florence ran the store/post office. From 1935 she ran it with her son Fred and his wife Eileen until 1957. It ceased to be a post office prior to WW2 – [see footnote 1].  The other half was Wayside Cottage and in 20th century "Grasshoppers Tea Room" run by Peggy Cook.
Q  Hills Farmhouse Nos. 15 & 17 
The houses on the west side of the High Street from Hayes Lane start with Nos. 15 & 17.  These originally made up Hills Farmhouse with farm buildings, the home of William Cole in 1779.  By 1842 the Coles had moved the farm from here to the farm complex near Town Mills and lived in the adjacent end cottage.  The High Street farmhouse was divided later.  
R  Nos. 9, 11 & 13 (Holly Tree Cottage) 
No. 13 was probably built in the late 17th century and the other two in the early 18th century as extensions.  They became a farmhouse known as "Cookneys" after a family living here in the 17/18th century.  By 1842 No. 13 had been separated from the others and they were divided into three by 1900.  The Palmer family appear to have leased all three from 1856 into the 1930's.  The Palmers are associated with many trades, carpenters, builders and undertakers in the village and then later in Budleigh Salterton.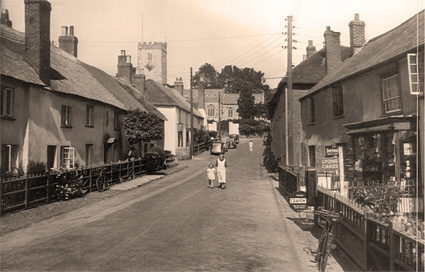 High Street photo c. 1930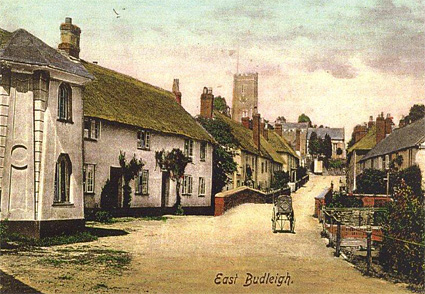 Batstone's showing watchmaker's extension photo c 1910
S  Batstone's Nos. 3, 5 & 7  
This block of cottages was once a farmhouse held by the Batstone family. It would appear that the centre cottage, No. 5 High Street, is an axial stack three bay house with back to back fireplace, typical of the 1600's. However No. 7 is much earlier, circa 1500's, and No. 3 has been built as an addition, probably in the 1700's.  They are all cob and thatch.  Charity Batstone had a license to sell ale in 1753/8, probably here.  John Williams, builder, held it 1790-1856 and divided it into three cottages in 1854.  In the late 1800's an elegant five sided extension was built to house a watchmaker, Frank Scherzinge.  Regrettably, in 1977, after heavy rain, it collapsed.  The cottage behind the extension is called The Round House.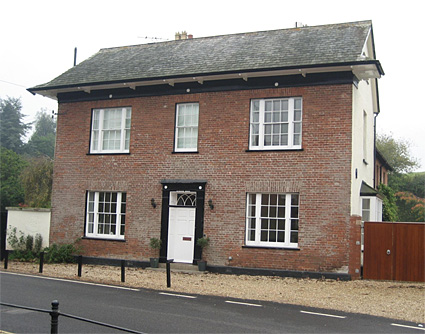 Wynards 2010 
T  Wynards No. 1  
This house was probably built by Samuel Walkey, with a thatched roof, after 1807.  It was re-thatched in 1868 and a north facade built on the front, with large overhanging eaves to deflect rain water from the thatch away from the frontage. In 1896 the thatch caught alight and the roof was slated. 
Behind the house is a much older building of 16th century origin which has been tastefully reconstructed retaining its original features. This is considered to be part of the original house probably built for the Wynard family.  William Wynard was recorder of Exeter in the 1450's and was a wealthy merchant and lawyer, probably having connections with the Ottermouth Port.  Moving to Budleigh Polsloe, the family probably became sheep-farmers.  They may have been the first leaseholders and responsible for one of the pew ends in the Church.  In 1697 John Pounce of Topsham bought the 1000-year lease of Wynards.  He later gave land for Salem Chapel to be built.  The Rolle Estates bought back the long lease in 1861. 
Link to Historic Buildings East Budleigh Part 2 - Lower Budleigh and Environs
Compiled and researched by Gerald Millington © 2011 
Sources and references: 
1.The Manors of Budleigh and Otterton: Late Saxon to Tudor times, Roger Lendon, OVApedia 2011
2.Mark Rolle - His Architectural Legacy in the Lower Otter Valley, Otter Valley Association © 2002, ISBN:0-9507534-5-9.
3.The Carved Bench-ends of All Saints Church,East Budleigh C16 David Jenkinson OVApedia 2010
4.A History of the Otter Estuary, 1320 to 1500. Gerald Millington, OVApedia 2009
5.Three thousand year leases in East Budleigh Manor, Gerald Millington, OVApedia 2011
6.Devon Record Office  Ref. 96/M
7.Clinton Devon Estates Archives Documents, Rentals Books, Letter Books.
8.Raleigh's Birthplace by Lilian Sheppard 1983 
9.Guide to Lower Otter Valley Chap.5 East Budleigh by Vivian Brennan 1983
10.Census, Directories, Land Tax Returns, Exeter Flying Post.
Footnote 1. Further information supplied on the Anniss family by Stan Anniss, e-mail dated 11 August 2015. 
141  EB-G-00014 any